Victorian Champs - CASE TOO SLICK FOR THE OPPOSITION
Details

Published: 181809091818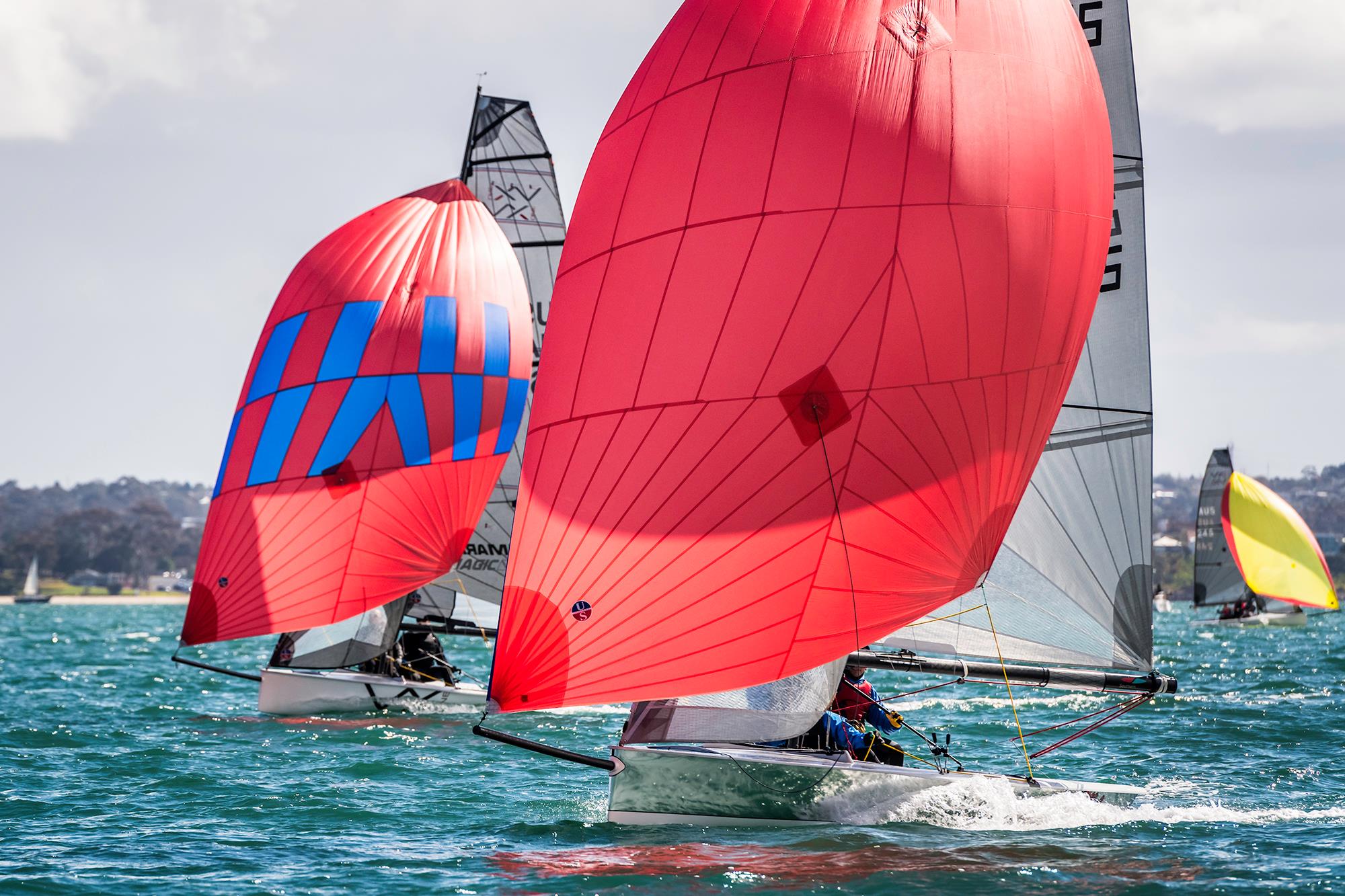 After a very wild, wet and windy Saturday where all boats remained on their trailers, the fleet of eight boats were very keen to hit the water for five races today.
The VX fleet were met with a fluky 12-18 knots for the first couple of races and from there the breeze became very unstable with huge gains and losses to be made.
Sydney 38's shared the course also with some very close situations which kept everyone on their toes.
The Geelong team on Slick got off to a good start in Race 1 and was able to hold off a fast finishing pack of three boats. I think everyone realised that we were all in a pretty competitive fleet.
Race 2 kicked off with a pin biased line and after sharing so much information to all VX1 sailors the previous day, Fred Kasparek and his team proved his experience and after many lead changes managed to out fox Slick in a race to the line.
Things were hotting up.
The breeze became a little lighter and even more shifty for Race 3 with many crews scrambling to take turns off their rigs. Canberra boats were starting to get the hang of Corio Bay and both Puff ( Stuart Minchin) and Ben Pfitzner on Funky Monks always prominent at the front of the fleet. After many lead changes Geelong's Kim Clark found something special on the far right downwind to overtake the leaders and sail brilliantly to hold on and take the win.
Three races, three winners, pretty cool competition.
A very hectic pin end start for Race 4 saw two boats cross the line early. Yes, first regatta and first day in the boat saw Chris Bland on Mongoose attack the pin in fury only to sneak over early. Slick also returned to restart having thought they were also over early (oops). Strong wind hit from the left allowing most to lay up to the first mark which set up for a roaring downwind drag race down to the gates dodging the fleet of port tack Sydney 38's.
Puff lead the charge but may have got a little mucked up by the '38's allowing Slick through and with the course becoming a soldiers course very few passing opportunities were had.
Back to light and variable breeze for the Race 5 finale which spread the fleet to both sides on the first beat. Geelong's Dripping Wet with newcomer Steve Williamson, son Sam and brother Ian set the standard up the left with Slick right on their tale. Both boats battled it out with Slick eventually getting win.
Very tired teams set sail for home.
Although only sailing for one day, it was quite noticeable how the entire fleet grew in standard and competitiveness. All's looking good for a competitive and growing fleet in Victoria ready to take on our northern friends.
Special thanks for the efforts of the Canberra teams for making the effort to come down plus with there willingness to share information. Really appreciated.
This Class just keeps getting better.
Race report by Brian case.
Photo credit goes to Tom Smeaton